With more people getting their entertainment online and watching through their phones, computers, or tablets many providers are finding it's no longer enough just to make TV shows or own a cable company. This has sparked mergers left and right. This, however, is drastically changing the web.
By Gerry Smith and Lucas Shaw

That logic is driving Dallas-based AT&T's proposed acquisition of Time Warner as two storied companies respond to changes reshaping the entertainment industry in 2016. AT&T, founded in 1885, has agreed to buy the parent of the 93-year-old Warner Bros. film studio for $107.50 a share, or $85.4 billion, according to a statement on Saturday.

The transaction is valued at $108.7 billion including Time Warner's net debt. Once the deal closes, Time Warner shareholders will own 14.4 percent to 15.7 percent of AT&T shares. AT&T expects the deal to be accretive in the first year and sees $1 billion in annual cost synergies within three years of closing.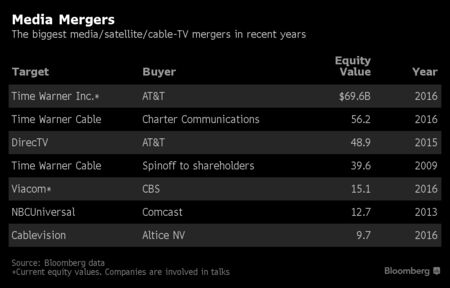 Trending: EPIC: Jeff Foxworthy Takes on Obama and it's Hilarious

Pay-TV distributors like AT&T, the parent of DirecTV, are trying to prevent subscribers from dropping their services for cheaper online alternatives. They aim to own content they can offer wherever consumers want, whether it's streamed to mobile phones or broadcast on TV.

AT&T's chief rival, Verizon Communications Inc., has bulked up in a different way, opting for original programming designed specifically to be viewed on smartphones for its mobile video service, Go90. Verizon has been buying companies like AOL and Yahoo! Inc. to become a player in the mobile advertising market.

New York-based Time Warner, which also owns CNN and HBO, is a rich target for AT&T. The media company has a vast library of movies and television series, such as the "Harry Potter" films and "Game of Thrones," and is among Hollywood's most prolific producers. Its annual revenue totals $28 billion.

Pressure to Sell

AT&T's interest "demonstrates the embedded value of media content in distribution platforms," said Steven Cahall, an analyst at RBC Capital Markets.

The same industry pressures may explain Time Warner's willingness to sell — two years after rejecting a buyout offer from 21st Century Fox Inc. Time Warner, Walt Disney Co. and competitors like Viacom Inc. are all confronting similar threats: falling TV ratings as consumers drop or pare their cable-TV subscriptions for online alternatives.

The pay-TV distributors have been combining as well, building negotiating leverage to rein in the price increases that media companies seek for their TV networks. AT&T bought DirecTV last year for $48 billion, creating the biggest U.S. pay-TV service, while Charter Communications Inc. struck a $56 billion deal to swallow up Time Warner Cable Inc. — a former unit of Time Warner.