After Harvey wreaked utter havoc on Houston residents members of the Louisiana 'Cajun Navy' stepped in to help with rescue efforts. The fleet of private citizens were in the process of a rescue mission when one team came across looters. The criminals reportedly shot at the team, the group posted on Facebook.
Via WDSU: The Cajun Navy has become widely known across the state for its response efforts during natural disasters and is made up of different groups. The group of first responders previously provided assistance to Louisianians during last year's historic August floods.
One group of rescuers are in Texas already and more are expected to be on the way. Those who have arrived have brought their own boats to aid in the rescue efforts.
News spread Monday about an apparent incident between members of the Louisiana Cajun Navy and several looters. One of the group members, in a since-deleted Facebook post, said that looters decided to pose as people needing help and attempted to overtake the group's boats. The group said shots were fired at the boats during the incident, but no one was injured.
Trending: The Only Gun Store in Thousand Oaks Sees Spike in Sales, Residences Say It's Time to Buy a Gun
"Clyde and the other team members and teams are all safe," the group said on Facebook. "I repeat, they are all safe."
The organization speculates the looters probably didn't want rescues to be performed or were looking to rob people. One member said a few looters are posing as flood victims and then robbing people, while other looters are pretending to be rescuers and then robbing people.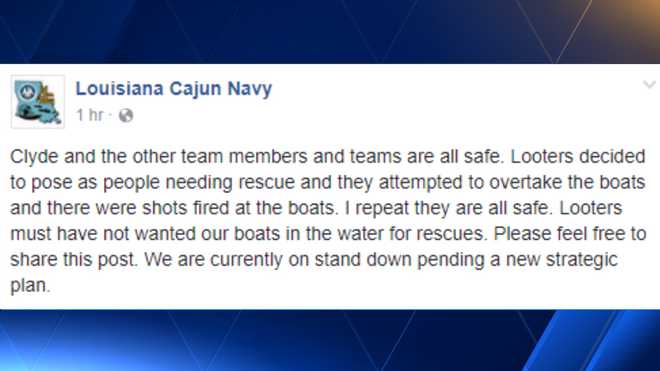 One 'sailor' from the 'Cajun Navy' posted a video reiterating that no one was hurt by gunfire during Monday night's encounter. He expanded on the details of what actually happened too:
Houston police are also reporting that some of their resources in this disaster have been directed to arresting criminals.
"We've already arrested a handful of looters. We've made it real clear to our community we're going to do whatever it takes to protect their homes and their businesses," said Houston Police Chief Art Acevedo Monday. "And when people come from the outside to Houston, Texas, know we're going to be out in the city, we're not going to rest as a police department or law enforcement community until people restore their lives."
Clyde Cain told CNN Monday that rescue operations were halted in some areas because rescuers were scared for their safety. He said on a Facebook video on the Louisiana Cajun Navy Facebook page that looters were targeting their boats, and that shots had been fired.
The Cajun Navy 2016 clarified on its own Facebook page that they are two different groups, and Cain is not affiliated with the Cajun Navy 2016. They said rescue operations continue in the Houston area, and the comments made by Cain have only slowed down the process.
This is what rescuers with that group had to say: