Yeah, and how has Germany been doing with all of their refugees. Not too good as far as we know. Maybe they should focus on reporting the problems in their own country before focusing in on the US.
Best-selling German weekly news magazine Der Spiegel [The Mirror] have published their weekend cover featuring a heavily stylised cartoon of the new American President, apparently in the style of an Islamic State propaganda video.

Showing President Trump holding the severed head of the Statue of Liberty in one hand and a blooded knife in the other, the cartoon was produced for the magazine by United States-based Cuban artist Edel Rodriguez. The design follows a number of other covers and articles by the magazine, one of Europe's largest, which have been highly critical of Trump, both during the election campaign and after his election.

…

Trending: EPIC: Jeff Foxworthy Takes on Obama and it's Hilarious

The shocking front page image accompanies a lead article which claims quite matter-of-factly that "The president of the U.S. is a racist. He is attempting a coup from the top; he wants to establish an illiberal democracy, or worse; he wants to undermine the balance of power".

The depiction of President Trump brandishing a large knife and the head of the Statue of Liberty — a gift to the United States from the people of France — comes one the same day that a group of French soldiers foiled a terror attack in Paris. Shooting the Egyptian citizen assailant as he charged the patrol with a large knife, the soldiers hit the would-be killer five times in the stomach and leg.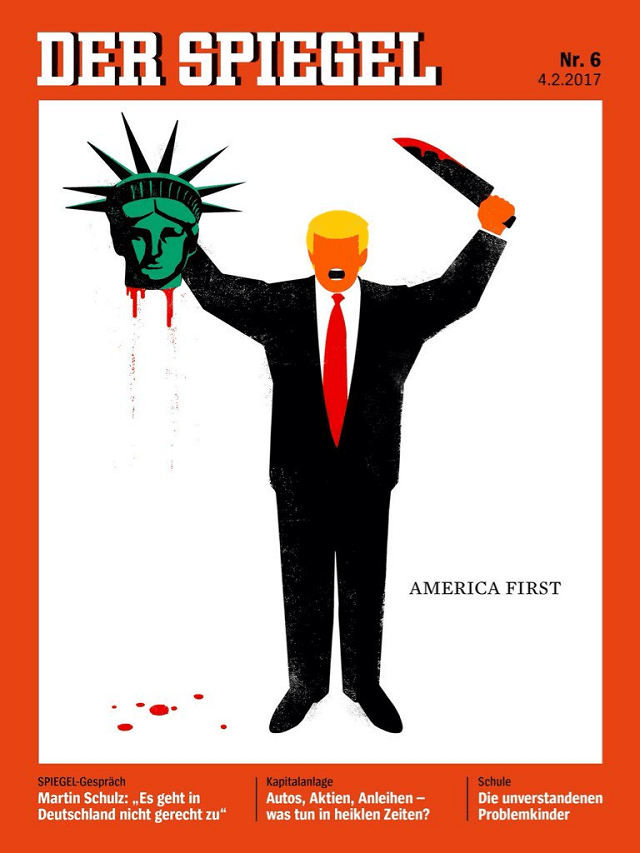 #DomesticTerrorism pic.twitter.com/dXcMoUiaCe

— Edel Rodriguez (@edelstudio) January 30, 2017