As Hillary Clinton conceded the presidential race to Trump, the traders at the New York Stock Exchange booed her speech and shouted, "Lock her up!"
https://twitter.com/carlquintanilla/status/796391138638827520?ref_src=twsrc%5Etfw
https://twitter.com/BusinessNews40/status/796398148633722882?ref_src=twsrc%5Etfw
Wall Street traders yelling "lock her up" on the NYSE floor during Clinton's speech. "Economic anxiety," y'all.

— Joan Walsh (@joanwalsh) November 9, 2016
Trending: Man Goes on Mass Stabbing at 3-Year-Old's Birthday Party
That's some pretty crazy stuff! It looks like Wall Street is happy with the results.
That didn't take long. An overnight panic in global markets evaporated as Wall Street gave an emphatic welcome to President-elect Donald Trump.

The Dow soared 257 points and brushed up against lifetime highs on Wednesday, in defiance of those who predicted Trump's election would bring about a plunge in the stock market. The S&P 500 and the Nasdaq rose 1.1% apiece.

The impressive market performance represents a dramatic reversal from the knee-jerk panic in global markets overnight as the results were coming in. Dow futures plummeted nearly 900 points at one point as investors expressed fear that no one would emerge victorious and concern about the inherent uncertainties brought on by a Trump White House.

But a sense of relative calm returned to the markets by morning. The rally gathered momentum midday after Hillary Clinton, Wall Street's favored candidate, officially conceded.

Market strategists said the upbeat mood in the markets is due in part to Trump's victory speech, which raised hopes that he will focus on policies that can help the economy and not follow through on some of his extreme campaign positions.

"The selloff last night was an hysterical reaction," said David Bianco, chief U.S. equity strategist at Deutsche Bank. "There are a lot of potentially damaging policies that could be introduced, but we think sober minds will prevail."

Peter Kenny, an independent market strategist, admitted that the market has "greeted Trump with a far more positive footing than I expected. He's receiving a very warm welcome."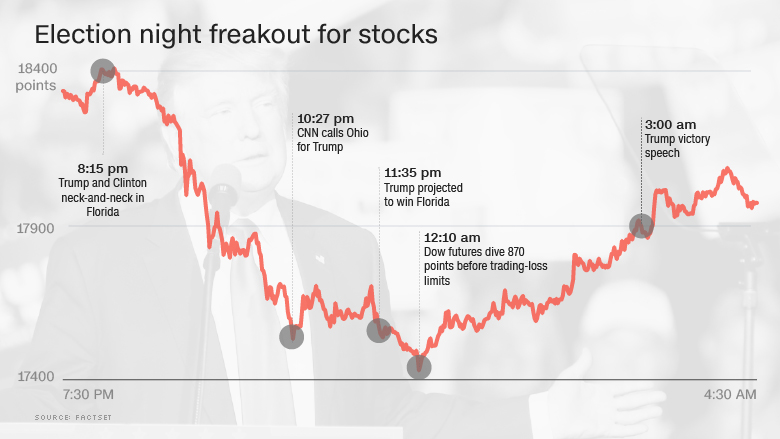 Still, it's clear that global markets are on edge. Asian stocks fell sharply, led by a 5% plunge for the Nikkei 225 in Tokyo amid concerns about how Japan's trade-centric economy would weather Trump's anti-trade rhetoric. European markets also slumped initially, before recovering and are mostly in the green now.

The Mexican peso plummeted over 11% at one point to a new all-time low against the U.S. dollar. Top Mexican finance officials said they would take steps to shore up the peso, but failed to lay out concrete details.

Trump's tough talk on trade with Mexico is seen as a direct threat to the Mexican economy, which depends heavily on trade with the U.S.