If there is any type of globalism to get behind, it's this kind.
It has been reported a British SAS sniper took out an Islamic State Jihadist in Mosul.
He was using an American rifle when he made the shot at 1.5 miles away.
That is an impressive thing to do btw!
Trending: Man Goes on Mass Stabbing at 3-Year-Old's Birthday Party
The SAS sniper was using a CheyTac M200 Intervention, which is made in South Carolina, USA.
So here you have a multinational situation, involving the British and US joining together beyond their borders to kick some jihadi a**!
E P I C.
This is how globalism should look. The good guys getting together to wipe out terrorist scum.
According to the Daily Mail, the ISIS jihadist was a sniper also. He was moving from position to position to find the place from which to shoot infidels.
That's when the SAS sniper shot him in the throat. Due to the distance between the two, "it took three whole seconds for the bullet to reach its target."
The Daily Star quoted a source: It was a classic counter-sniper operation. The ISIS gunman was moving all the time to get into the best position to get a kill.
It was like a game of cat-and-mouse and at one point the SAS almost gave up, believing that the terrorist had gone to ground.
Just as the light was beginning to fade the gunman moved into what he thought was a safe location and lifted his rifle up into his shoulder before the SAS shot him dead.
The CheyTac M200 Intervention rifle is described by the manufacturers as a "truly nostalgic rifle" which is "considered the most unique long-range rifle system today."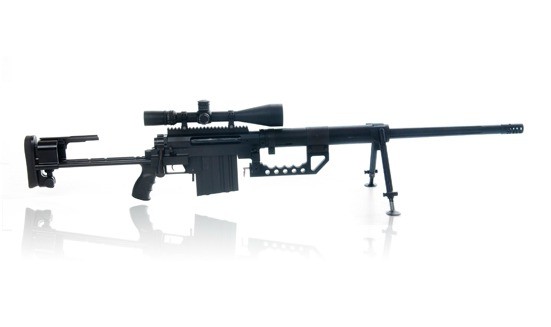 CheyTac continues:
It comes as no surprise this system is ranked the #1 sniper rifle in the world by The Military Channel's top ten sniper rifles, with its sub-minute of angle accuracy and ability to easily engage targets that are 2500 yards and beyond! Combined with CheyTac's USA Patented Balance Flight Projectiles®, you have a rifle that delivers greater range and accuracy with less bullet drop and drift than any other cartridge in the World.
Starting price for this gun is about $13,800.
Which when you consider what these servicemen do, it's a small price for freedom.